Obstacles and opportunities in Chinese pharmaceutical innovation
Globalization and Health
2017
13:21
Received: 16 July 2015
Accepted: 9 March 2017
Published: 24 March 2017
Abstract
Background
Global healthcare innovation networks nowadays have expanded beyond developed countries with many developing countries joining the force and becoming important players. China, in particular, has seen a significant increase in the number of innovative firms and research organizations stepping up to the global network in recent years. Nevertheless, the intense Research and Development input has not brought about the expectable output. While China is ascending at a great speed to a leading position worldwide in terms of Research and Development investment, scientific publications and patents, the innovation capabilities in the pharmaceutical sector remain weak.
Discussion
This study discusses the challenges and opportunities for pharmaceutical innovation in China. One hand, academic, industrial, institutional and financial constraints were found to be the major and inevitable barriers hindering the development of drug innovation. On the other hand, unique advantages had been observed which included growing pharmaceutical market, Research and Development funding, distinctive source, and international cooperation.
Summary
The most important thing for China's pharmaceutical sector to leap forward is to break though innovation barriers and integrate own advantages into global value-chain of healthcare product development.
Keywords
ChinaPharmaceutical industryObstaclesOpportunitiesGlobal networkInnovation
Background
Pharmaceuticals are playing an extreme important role in global health system by diagnosing, curing, treating, and preventing diseases. In terms of dramatically increasing R&D (Research and Development) expenditures and relatively decreasing approvals of new drugs during recent past, the decline in R&D efficiency has been the central issue of discussing global pharmaceutical innovation [1, 2]. Meanwhile, recent literature clearly points out that emerging countries mainly involving China show the increasing importance of pharmaceutical R&D activities and investments in innovative research for developing new drugs with the influence of R&D globalization [3, 4]. In this context, it is of great significance to understand pharmaceutical innovation in China from the global perspective.
As one of the fastest growing markets among the emerging countries, China received increasing attention from around the world. Due to supporting national polices, economic growth, aging population and global trend, China's share of pharmaceutical industry output increased nearly seven‐fold, from 2.5% in 1995 to 18.3% in 2010, and is expected to become the second-largest pharmaceutical market in the world by 2020 [5, 6]. This changing trend may also apply to the global healthcare innovation networks as increased sales performance can better support R&D.
It is obvious that China has ascended to a worldwide leading position at an accelerated pace in terms of R&D funding, scientific publications, and patents in recent years [4]. With the perspective of switching from imitation to innovation, R&D expenditure in China's pharmaceutical industry increased from $162.6 million USD (USA dollar) in 2000 to $3249.2 million USD in 2011 [7]. The favorable condition created by the tremendous investments made by Chinese pharmaceutical sector in R&D has resulted in significant global share of scientific publications and patents in recent years. The number of articles published by Chinese scholars in peer review journals related to pharmaceuticals has leapt to the second position in the world [8].
However, China is still weak in developing real innovative medicines. Considerable pharmaceutical R&D input, scientific publications and patents in China have not yet translated into the ultimate outcome of innovative pharmaceutical products recognized globally. For a long time, pharmaceutical industry in China is known for its mass-production of low-level generic drugs and as a 'world factory' of active pharmaceutical ingredients (APIs) with little mentioning of real innovative medicines [9]. Studies have shown that China remains at a weak position in the global drug innovation network based on analysis of worldwide recognized innovative drugs [10–12].
It is no doubt that the pharmaceutical innovation system in China is filled with obstacles which prevent China's R&D capabilities from transforming into innovation competencies and eventually pharmaceutical products to generate market values [13]. With concerns about the huge gap between strong R&D input/ paper output as well as weak innovative medical products, this study aims to provoke a more systematic analysis of obstacles and opportunities in Chinese pharmaceutical innovation system. More understanding of pharmaceutical innovation system in China will be helpful to provide the more opportunity of discovering new medicines effectively in the world.
Obstacles to pharmaceutical innovation in China
Innovation is a system phenomenon, with multiple types of individual and collective agents, including firms, entrepreneurs, institutes for education and research, policymakers, regulatory agencies, and many types of services and intermediaries, interacting in a variety of ways [
14
]. Based on prior literatures [
15
,
16
], Fig.
1
demonstrates pharmaceutical innovation system, which is comprised of R&D organizations, governments, pharmaceutical companies, finance and service institutions, responsible for knowledge innovation, policy innovation, production innovation, and service innovation, respectively. These innovations link together and generate new medicine discovery under a favorable regulation, market, finance, and technology transfer environments. Obstacles to pharmaceutical innovation in China have been observed at each of the above-mentioned counterparts which will be discussed further in the following.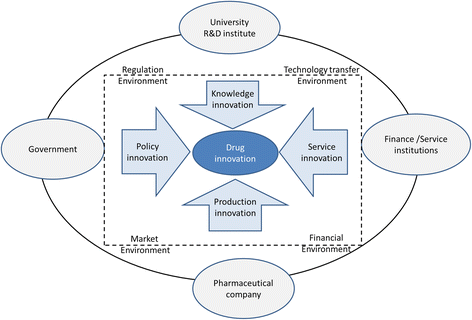 Opportunities for China's pharmaceutical innovation
As two sides of the same coin, China's pharmaceutical innovation still has various unique opportunities, despite of so many obstacles mentioned above. For instance, during the stage of the "Key Drug Innovation Project" from 2009 to 2011, 62 NDAs originated from this project were approved by the CFDA and about 400 categories entered the clinical research stage [35, 36]. Moreover, some positive efforts have been made in recent years. For example, recruitment of Chinese scientists back from abroad, China is embracing 'Thousand Talents plan' [37]. The latest news reported that The Chinese Academy of Sciences (CAS), the heart of China's scientific development, is making unprecedented structural reforms to foster collaboration and to turbocharge research [38]. The CFDA issued a draft amendment to the Drug Registration Regulation, and is planning to revise Drug Administration Law of China comprehensively. The article further analyzes comparative advantages of China's drug innovation system in the global context, elaborated one-by-one as below.
Conclusions
In summary, this study addressed the barriers and opportunities for pharmaceutical innovation in China. One hand, China's pharmaceutical sector is confronted with inevitable barriers hindering the pace of drug innovation, including academic, industrial, institutional and financial constraints. To reshape China and change the reputation of made-in-China to discovered-in-China is highly challenging. On the other hand, China exhibits unique advantages in the development of healthcare industry as shown by the dramatic growth in terms of R&D investment, healthcare expenditure and international cooperation. The increasingly intertwined relationship of both competition and cooperation in the global healthcare industry is of great significance to remove obstacles and create more opportunities for China's pharmaceutical sector. The most important thing is, to break though innovation barriers and take advantage of the opportunities that are currently available for improving drug innovation in China, and further integrate self-advantages into global value-chain of healthcare product development. All of these will greatly facilitate the development of pharmaceutical innovation in China. As a result, China will play increasingly important role in the global innovation network, and more extensively involved in global healthcare innovation in near future.
Abbreviations
ANDA:

Abbreviated New Drug Application
APIs:

Active pharmaceutical ingredients
BCT:

Bridging clinical trial
BMI:

Basic Medical Insurance
CAS:

Chinese Academy of Sciences
CDE:

Center for Drug Evaluation
CFDA:

China Food and Drug Administration
FDA:

Food and Drug Administration in the U.S
GCP:

Good Clinical Practice
ICH:

Harmonization of Technical Requirements for Registration of Pharmaceuticals for Human Use
MAH:

Marketing authorization holder
NDA:

the New Drug Application
PE:

Private equity
R&D:

Research and Development
SCI:

Science Citation Index
TCM:

Traditional Chinese medicine
VC:

Venture capital
Declarations
Acknowledgements
Not applicable.
Funding
This research is supported by project MYRG2015-00145-ICMS-QRCM, University of Macau.
Availability of data and materials
Not applicable.
Authors' contributions
JN conducted data collection, performed data analysis and drafted the manuscript. YH conceived and designed this study, analyzed data and revised the manuscript. JZ participated in data collection, analysis and drafted the manuscript, COLU and HH participated in manuscript revision, YW participated in research design, and reviewed the whole manuscript. All the authors read and approved the final manuscript.
Competing interests
The authors declare that they have no competing interests.
Consent for publication
Not applicable.
Ethics approval and consent to participate
Not applicable.
Publisher's Note
Springer Nature remains neutral with regard to jurisdictional claims in published maps and institutional affiliations.
Open AccessThis article is distributed under the terms of the Creative Commons Attribution 4.0 International License (http://creativecommons.org/licenses/by/4.0/), which permits unrestricted use, distribution, and reproduction in any medium, provided you give appropriate credit to the original author(s) and the source, provide a link to the Creative Commons license, and indicate if changes were made. The Creative Commons Public Domain Dedication waiver (http://creativecommons.org/publicdomain/zero/1.0/) applies to the data made available in this article, unless otherwise stated.
Authors' Affiliations
(1)
Institute of Chinese Medical Sciences, State Key Laboratory of Quality Research in Chinese Medicine, University of Macau, Taipa, China