Looking at non-communicable diseases in Uganda through a local lens: an analysis using locally derived data
Globalization and Health
2014
10:77
Received: 26 September 2014
Accepted: 24 October 2014
Published: 19 November 2014
Abstract
The demographic and nutritional transitions taking place in Uganda, just as in other low- and middle-income countries (LMIC), are leading to accelerating growth of chronic, non-communicable diseases (NCDs). Though still sparse, locally derived data on NCDs in Uganda has increased greatly over the past five years and will soon be bolstered by the first nationally representative data set on NCDs. Using these available local data, we describe the landscape of the globally recognized major NCDs- cardiovascular disease, diabetes, cancer, and chronic respiratory disease- and closely examine what is known about other locally important chronic conditions. For example, mental health disorders, spawned by an extended civil war, and highly prevalent NCD risk factors such as excessive alcohol intake and road traffic accidents, warrant special attention in Uganda. Additionally, we explore public sector capacity to tackle NCDs, including Ministry of Health NCD financing and health facility and healthcare worker preparedness. Finally, we describe a number of promising initiatives that are addressing the Ugandan NCD epidemic. These include multi-sector partnerships focused on capacity building and health systems strengthening; a model civil society collaboration leading a regional coalition; and a novel alliance of parliamentarians lobbying for NCD policy. Lessons learned from the ongoing Ugandan experience will inform other LMIC, especially in sub-Saharan Africa, as they restructure their health systems to address the growing NCD epidemic.
Keywords
Non-communicable diseasesChronic conditionsLow- and middle-income countriesUgandaHealth system financingMulti-sector collaboration
Introduction
"In the African population of Uganda coronary heart disease is almost non-existent."
Thus opened Shaper and Jones' seminal 1959 article in which they compared cholesterol levels in Asian and African communities of Kampala, Uganda's capital city [1]. The former was experiencing high mortality rates from myocardial infarction while the latter was largely unaffected. At the time, this phenomenon was attributed to genetic or ethnic immunity [2]. The authors identified for the first time that a high-fat and low-fiber diet was associated with cardiovascular disease (CVD). They also wisely suggested an association of other lifestyle conditions such as physical inactivity with CVD. Now, 55 years later, the link between the major non-communicable diseases (NCDs)- CVD, diabetes mellitus (DM), cancer, and chronic respiratory disease (CRD)- and shared risk factors such as tobacco use, physical inactivity, unhealthy diet, and harmful use of alcohol is firmly established.
The above example from Shaper and Jones illustrates the importance of locally generated data regarding risk factors, incident and prevalent disease, and morbidity and mortality. Unfortunately, such data are lacking in most LMIC, including Uganda. This poses a great challenge to effective health sector planning and resource allocation. In Uganda, over the last five years, there has been a marked increase in locally derived data about NCDs. Importantly, local authorship of this research has risen as well, from 40% between 1994-2003 to 60% between 2004-2013 (Figure
1
). Herein we briefly review this literature with a preference toward population-based data, giving attention to first-of-their-kind studies for LMIC or sub-Saharan Africa (SSA). We focus on features unique to Uganda, discuss intervention costs, describe various strategies addressing NCDs, and offer recommendations for the future.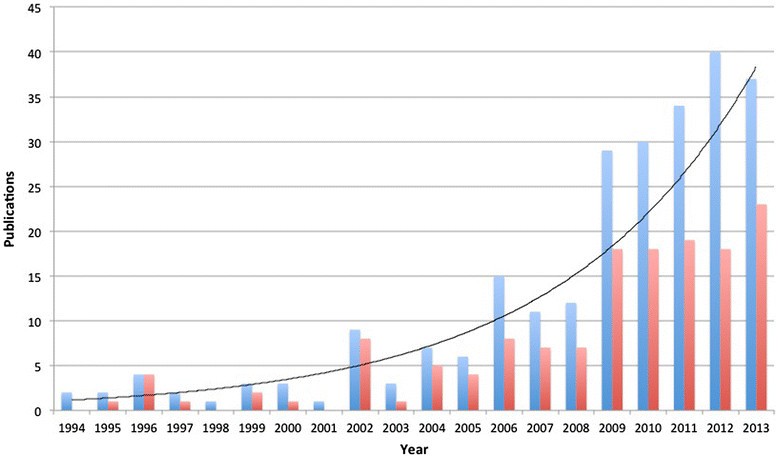 Discussion
This review relies on currently available, locally derived data. The generalizability of these data is limited by the small sample sizes and geographic localization of the respective studies. However, these studies offer a local perspective that is largely lacking from, or sometimes disagrees with, the data available from large-scale, global analyses. A few such examples are worth noting. First, the WHO Global Health Observatory Data Repository suggests that Uganda's population growth rate is ?3.4%, in contrast to the +3% rate suggested by local data. At the same time, the estimate of the urban dwellers (16%) approximates and that of the local data (18.8%) [37]. Second, the reported national prevalence of hypertension in the World Health Organization's Uganda NCD Country Profile is 34% [38]. This represents the upper range of the local data presented herein; data that is more likely to capture the expected prevalence differences between urban and rural settings. Third, some important data do not exist in the global databases. For instance, by looking at the WHO Global Health Expenditure Database, one would be unable to estimate the Ugandan MoH financing of its NCD Programme [39]. As would be suggested by the local data, GBD 2010 estimates that a number of the NCDs and risk factors described herein (including IPV, RTA, depression, stroke, and CRD) are among the leading causes of disability-adjusted life years (DALYs) in Uganda. Between 1990 and 2010, RTA and IPV increased more than any other causes of DALYs in Uganda [40].
Though nationally representative data from STEPS should become available shortly, this survey is fairly narrow in scope. STEPS has three sections: Risk factors (tobacco and alcohol use, fruit and vegetable consumption, and physical activity); Physical measurements (body mass index, waist circumference, and blood pressure); and Biochemical measurements (blood glucose and cholesterol). STEPS will not provide nationally representative data on IPV, RTA, mental illness, or biomass fuel exposure, among others. Therefore, the research highlighted in this review serves as a critically important complement to the type of information that we will learn from Uganda's STEPS survey. The fact that local researchers are conducting an increasing percentage of this work speaks to a growing academic capacity in Uganda that must be embraced and nurtured.
The availability of local data is essential for the formation of policy that addresses NCDs and the health system restructuring that will enable support of chronic disease management. However, such data alone will be insufficient to move policy into implementation. There are numerous obstacles that stand between good research, well written policy, and effectively implemented programs. These can include government bureaucracy, health sector financing, and health system capacity to effect change [41]. However, we can learn from successful examples such as that of behavior change messaging for HIV control early in the Ugandan epidemic. An environment existed that embraced evidence-based health messaging. A government and bureaucracy that engaged actively with donors and non-governmental organizations enabled such an environment. This, in part, is credited with the dramatically decrease HIV prevalence in Uganda in the 1990s [42].
Conclusion
Today in Uganda, several challenges must be addressed to ensure that the relatively new surge in local NCD-related research and a rich environment of cross-sector collaborations translate into effective policy and implementation. First, funding for NCDs is grossly inadequate. Along with greater understanding of risk factor and disease epidemiology, a focus on NCD costing will be critical if NCD financing is to attain a level proportional to the burden. The sustainability of the 92% of MoH's budget coming from external sources depends upon the international political environment and the consistency of donor support. The 90% of current NCD Programme funding supplied by WDF, too, is unsustainable. Second, the failure of most high-level health facilities to meet minimum standards for NCD interventions is concerning. As integrated models for prevention and care are evaluated, attention must be given to cost-effectiveness and leveraging available resources. Finally, stronger governance and a robust civil society are needed in order to catalyze the implementation of policies such as tobacco control and to counter the increasing pressures of transnational corporations. The success of the NCD agenda will rely on the cooperation and fortitude of multiple sectors as well as a strengthening civil society that can shed light on the social injustices and socioeconomic determinants of health that help drive the Ugandan NCD epidemic.
Authors' contributions
JIS wrote the first draft of the manuscript. DG, RN, and CKM contributed meaningfully to subsequent drafts. RN additionally contributed the "Analyzing the cost of care" section. All authors read and approved the final manuscript.
Abbreviations
BMI:

Body mass index
COPD:

Chronic obstructive pulmonary disease
CRD:

Chronic respiratory disease
CVD:

Cardiovascular disease
DALY:

Disability-adjusted life year
DM:

Diabetes mellitus
FPG:

Fasting plasma glucose
GBD:

Global Burden of Disease
GPAS:

Global Partners in Anesthesia and Surgery
HBP:

High blood pressure
HTN:

Hypertension
IPV:

Intimate partner violence
KS:

Kaposi sarcoma
LMIC:

Low- and middle-income country
MoH:

Ministry of Health
NCD:

Non-communicable disease
RPG:

Random plasma glucose
RHD:

Rheumatic heart disease
RTA:

Road traffic accidents
SSA:

Sub-Saharan Africa
STEPS:

Stepwise approach to Surveillance
UINCD:

Uganda Initiative for Integrated Management of Non-Communicable Diseases
UNCDA:

Uganda Non-Communicable Disease Alliance
UNMHCP:

Uganda National Minimum Health Care Package
WDF:

World Diabetes Federation
WHO:

World Health Organization
Declarations
Acknowledgements
The authors wish to acknowledge the following individuals for their contributions to this manuscript: Hilary Rogers, MPH constructed the literature search strategy. Keara Schwartz adapted the map of Uganda. Emily Thacher assisted RN with the cost analysis contribution.
Funding
No external funding supported the authors in writing this manuscript.
Authors' Affiliations
(1)
Department of Internal Medicine, Yale School of Medicine, New Haven, USA
(2)
Young Professionals Chronic Disease Network, Boston, USA
(3)
Uganda Initiative for Integrated Management of Non-communicable Diseases, Kampala, Uganda
(4)
Department of Epidemiology and Biostatistics, Makerere University School of Public Health, Kampala, Uganda
(5)
Department of Global Health, University of Washington, Seattle, USA
(6)
Department of Medicine, Mulago National Referral Hospital, Kampala, Uganda
Copyright
© Schwartz et al.; licensee BioMed Central Ltd. 2014
This article is published under license to BioMed Central Ltd. This is an Open Access article distributed under the terms of the Creative Commons Attribution License (http://creativecommons.org/licenses/by/4.0), which permits unrestricted use, distribution, and reproduction in any medium, provided the original work is properly credited. The Creative Commons Public Domain Dedication waiver (http://creativecommons.org/publicdomain/zero/1.0/) applies to the data made available in this article, unless otherwise stated.