Diabetes in Argentina: cost and management of diabetes and its complications and challenges for health policy
Globalization and Health
2013
9:54
Received: 23 July 2012
Accepted: 10 October 2013
Published: 29 October 2013
Abstract
Background
Diabetes is an expensive disease in Argentina as well as worldwide, and its prevalence is continuously rising affecting the quality of life of people with the disease and their life expectancy. It also imposes a heavy burden to the national health care budget and on the economy in the form of productivity losses.
Aims
To review and discuss a) the reported evidence on diabetes prevalence, the degree of control, the cost of care and outcomes, b) available strategies to decrease the health and economic disease burden, and c) how the disease fits in the Argentinian health care system and policy. Finally, to propose evidence-based policy options to reduce the burden of diabetes, both from an epidemiological as well as an economic perspective, on the Argentinian society. The evidence presented is expected to help the local authorities to develop and implement effective diabetes care programmes.
Methodology
A comprehensive literature review was performed using databases such as MEDLINE, EMBASE and LILACS (Latin American and Caribbean Health Sciences). Literature published from 1980 to 2011 was included. This information was complemented with grey literature, including data from national and provincial official sources, personal communications and contacts with health authorities and diabetes experts in Argentina.
Results
Overall diabetes prevalence increased from 8.4% in 2005 to 9.6% 2009 at national level. In 2009, diabetes was the seventh leading cause of death with a mortality rate of 19.2 per 100,000 inhabitants, and it accounted for 1,328,802 DALYs lost in the adult population, mainly affecting women aged over fifty. The per capita hospitalisation cost for people with diabetes was significantly higher than for people without the disease, US$ 1,628 vs. US$ 833 in 2004. Evidence shows that implementation of combined educative interventions improved quality of care and outcomes, decreased treatment costs and optimised the use of economic resources.
Conclusions
Based on the evidence reviewed, we believe that the implementation of structured health care programmes including diabetes education at every level, could improve quality of care as well as its clinical, metabolic and economic outcomes. If implemented across the country, these programmes could decrease the disease burden and optimise the use of human and economic resources.
Keywords
DiabetesCostsArgentinaPrevalenceDiabetes management
Background
Diabetes is an expensive disease in Argentina as well as worldwide, and its prevalence is continuously rising [1]. This situation has encouraged us to review published evidence on diabetes prevalence, control, cost of care and outcomes, and to discuss how diabetes fits in the Argentinian health care system and policy. The Argentinian health care system includes three independent sectors: the public, the social security and the private (pre-paid) sectors [2]. The public sector is mainly financed through taxes and provides universal access to free health care to nearly 16 million people (mostly unemployed and low-income population who are not insured through social security or private sector) through primary care units and hospitals with different levels of complexity [2]. It includes different kinds of disease management programmes for the ambulatory treatment of chronic diseases with free supply of drugs through public entities; however, not all chronic diseases are fully covered. Diabetic patients can access insulin, some oral drugs and a limited number of strips for self-monitoring blood glucose (SMBG) free of charge as part of public health insurance. The social security sector comprises more than 300 institutions that depend on provincial governments and different trade unions. They are organised at national and sub-national level and cover nearly 17 million people. The level of health coverage is fixed by law in the so-called Mandatory Health Programme (MHP) [3]. This sector is financed by a fixed compulsory contribution (a percentage of the salary) made by both employee and employer (3% and 6%, respectively). Finally, the private sector is financed through prepaid medical plans; it covers about 3.2 million people and operates in a similar manner as the social security sector. The magnitude of coverage depends on the plan selected by the individual: the lowest-cost plan considers the MHP as the standard reference for the minimum level of coverage required [2].
This study aims to review the status of diabetes management in Argentina, trying to identify the key challenges that the country needs to address and the potential strategies available to reduce the socioeconomic disease burden. We hope that this analysis can help local authorities in Argentina to develop and implement effective diabetes care programmes with the aim of reducing the health and socioeconomic burden this disease continues to inflict to the country.
Methods
We performed a comprehensive literature review in MEDLINE, EMBASE and LILACS (Latin American and Caribbean Health Sciences) for the period 1980–2011, using the following key words: diabetes in Argentina, diabetes cost of care, diabetes cost of management, cost of diabetes complications, diabetes health policy. Abstracts - either in English or Spanish - from the identified references were collected and screened by the authors for inclusion in the study. Population based publications on diabetes prevalence, incidence, social and economic impact of the disease with careful statistical data analysis were included in the revision while those related to the issue but having no these characteristics were excluded. Full papers of the selected abstract were obtained and carefully analysed by the authors. The literature review was complemented with personal communications and contacts with national and provincial health authorities and diabetes experts in Argentina in an attempt to include unpublished evidence and policies. The information collected was then reviewed and summarised independently by the authors and thereafter the selected material was analysed and used to prepare the final manuscript.
Discussion
The data currently described clearly demonstrate that in Argentina, diabetes care consumes a large amount of resources due to its high prevalence and its association with other CVRFs, along with the presence of chronic complications. These complications increase the cost of care and exert a negative impact on quality of life of people with diabetes, but also affect the economy due to productivity losses and the community because of disability, premature mortality, increased spending on health, disability and early retirement benefits, etc.
The negative impact of the development and progression of chronic complications can be effectively prevented by tight control of hyperglycaemia and the associated CVRFs [33–37]. However, the frequent combination of late diagnosis, inappropriate quality of care provided to people with diabetes and uneven access to care and treatment play against the effectiveness and feasibility of secondary prevention [12, 13, 18–20, 22, 25, 38–42].
The patients overload affecting the public health sector also conspires against the provision of effective care and the consequent prevention of chronic compliactions. Further, in many cases, the patient does not have 100% medication coverage (which is the case for certain new drugs, but not for human insulin or agents such as metformin or glibenclamide), and the consequent extra out-of-pocket (OOP) expenditure becomes an additional burden for the patient. So far however, we have not been able to objectively measure the real burden of OOP payments on individuals and any socioeconomic disparities in access it may lead to due to lack of data.
Together, all the conditions mentioned above can result in the provision of poor quality care and disparities in access for people with T2DM. As a consequence, many patients do not attain the recommended therapeutic goals and develop chronic complications with the negative consequences mentioned above.
When health care planners and authorities analyse possible solutions to tackle these problems, one of the main suggestions emerging it the need to increase the health care budget. Since most developing countries face economic constraints, this option appears difficult to implement. But if such an increase were feasible, it would not necessarily provide a real solution. In fact, using data from countries with higher health care budgets than Argentina, CENEXA has demonstrated that the quality of care provided was similarly poor in all of them [22]. These findings thus showed that the size of the health budget is not the main constraint for delivering good quality diabetes care and that there is a need to find more efficient interventions to improve health care quality.
Implementation of educational interventions at every level could be a potentially effective solution. However, for such intervention to be successful, reluctance of many health care providers and people with diabetes regarding the importance of the active participation of patients in the control and treatment of their disease, need to be overcome [43]. Further, the favourable impact of educational interventions implemented in Argentina in different health care settings, upon clinical, metabolic, psychological and economic indicators needs to be promoted [20, 29–31]. Adopting this concept, the Argentinean National Health Ministry has implemented a long-distance diabetes training programme [24] delivered by the universities of La Plata (Argentina) and Indiana (USA) to improve the knowledge and skills of general practitioners around the country.
Despite the great efforts and resources thus far devoted to improving the quality of care of people with diabetes and secondary prevention, the results so far obtained were really poor. Even though diabetes primary prevention has been effectively achieved in people at high risk of developing the disease in different health systems and in different ethnic populations by adopting a healthier life style [44], this approach has not been tested in Argentina. Consequently, CENEXA is actively working in this direction validating several questionnaires suitable for the identification of populations at high risk of developing diabetes [45, 46], and organising a multi-sector diabetes primary prevention pilot study in three cities from the province of Buenos Aires to be launched in 2013.
Recommendations
How do we envisage the close future activities and the establishment of diabetes health care priorities in Argentina? We did not currently identify any effective long-term programme directly related to either primary or secondary diabetes prevention. We envisage that an improvement in diabetes outcomes in Argentina would require a set of coordinated strategies able to prevent both the transition rate from glucose intolerance to diabetes for people at high risk of developing diabetes (primary prevention) and to prevent the development and progression of chronic diabetes complications (secondary prevention), thus decreasing the high social and economic cost of the disease (Figure
1
).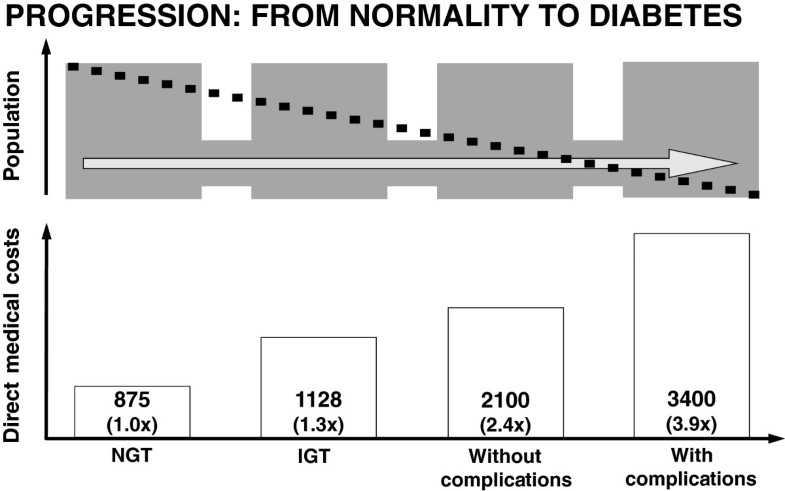 Such strategies should be mainly based on education programmes implemented at every level of the health care system, including health providers and people with diabetes as well as focussing on improving access to care and treatment (Figure
2
).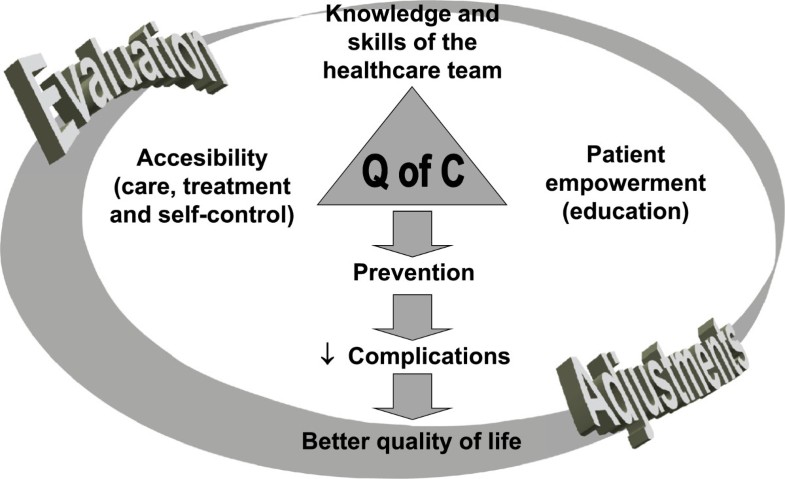 In brief, we strongly believe that in Argentina the burden of diabetes can be overcome using the approach presented in Figure 2, i.e., implementing education strategies at the level of health care providers and people with diabetes, and also at health care management level (those responsible for health care programme organisation and implementation). A nationwide education programme must be implemented together with a continuous evaluation programme to record successful results and failures that can allow the introduction of changes to optimise outcomes. The evaluation should include not only clinical, metabolic and satisfaction indicators, but also appropriate economic indicators (e.g. direct and indirect costs). The latter can serve to optimise resource allocation based on real needs rather than on transient political demands and pressures.
To increase the effectiveness of the education programme, its design and development should include all the sectors involved in disease management (health care authorities, health care organisations and providers as well as people with diabetes). The public education sector should also be included, since adoption of healthy life style habits must start from an early age, preferably during primary school, when children develop their future habits.
Declarations
Acknowledgment
This paper is part of a research project based at the London School of Economics and Political Science (LSE) on Diabetes International which is funded with an unrestricted educational grant by Novo Nordisk. The authors acknowledge Petra Dickman and Alessandra Ferrario for the careful revision of the manuscript and her useful suggestions, as well as Adriana Di Maggio for the careful editing of this manuscript and Marsha Fu for editorial assistance.
Authors' Affiliations
(1)
CENEXA – Centro de Endocrinología Experimental y Aplicada (UNLP – CONICET La Plata, PAHO/WHO Collaborating Centre for Diabetes), Facultad de Ciencias Médicas UNLP, La Plata, Argentina
Copyright
© Caporale et al.; licensee BioMed Central Ltd. 2013
This article is published under license to BioMed Central Ltd. This is an open access article distributed under the terms of the Creative Commons Attribution License (http://creativecommons.org/licenses/by/2.0), which permits unrestricted use, distribution, and reproduction in any medium, provided the original work is properly cited.