Intervention mapping to address social and economic factors impacting indigenous people's health in Suriname's interior region
Globalization and Health
2017
13:11
Received: 18 May 2016
Accepted: 16 February 2017
Published: 1 March 2017
Abstract
Background
Previous studies found that while internationally financed economic development projects reduced poverty when measured in terms of per capita GDP, they also caused indigenous people to become disassociated, impoverished and alienated minorities whose health status has declined to unacceptable lows when measured in terms of mercury poisoning and the burgeoning rate of suicide. In this study, we developed a needs assessment and a policy-oriented causal diagram to determine whether the impaired health of the people in this region was at least partially due to the role the country has played within the global economy. Specifically, could the health and well-being of indigenous people in Suriname be understood in terms of the foreign investment programs and economic development policies traceable to the Inter-American Development Bank's Suriname Land Management Project.
Methods
Interviews took place from 2004 through 2015 involving stakeholders with an interest in public health and economic development. A policy-oriented causal diagram was created to model a complex community health system and weave together a wide range of ideas and views captured during the interview process.
Results
Converting land and resources held by indigenous people into private ownership has created an active market for land, increased investment and productivity, and reduced poverty when measured in terms of per capita GDP. However, it has also caused indigenous people to become disassociated, impoverished and alienated minorities whose health status has declined to unacceptable lows.
While the effects of economic development programs on the health of vulnerable indigenous communities are clear, the governance response is not. The governance response appeared to be determined less by the urgency of the public health issue or by the compelling logic of an appropriate response, and more by competing economic interests and the exercise of power.
Conclusion
The health and well-being of the indigenous Wayana in Suriname's interior region is at least partially due to the role the country has played within the global economy. Specifically, the health and well-being of indigenous people in Suriname can be understood to be a result of foreign development bank-funded projects that drive the government of Suriname to trade land and natural resources on the global market to manage their country's balance of payments.
Keywords
Indigenous healthEconomic policyGlobal health governanceMulti-lateral development banks
Background
Many of the causal determinants of health and health inequities lay outside the health sector and are socially, economically and politically formed [1]. Economic policies, promoted by international agencies and triggered by free-trade agreements and globalization, have resulted in a proliferation of large-scale development projects on indigenous lands and territories [2–7]. International banking institutions provide structural adjustment loans and fund infrastructure projects that are necessary for resource extraction and export. For the U.S., the Department of Treasury leads the Administration's engagement in the multilateral development banks (MDBs), which include the World Bank, Inter-American Development Bank (IADB), Asian Development Bank, the African Development Bank, and the European Bank for Reconstruction and Development [8].
MDBs provide loans and low interest subsidies on the condition that the developing country agrees to adopt Structural Adjustment Programs (SAPs) that remove excess government controls and promote market competition consistent with the neo-liberal ideology that drives globalization [9–11]. The aim of SAPs is to achieve long-term or accelerated economic growth in poorer countries by restructuring their economies and reducing government intervention. SAP policies include the managed balance of payments and the reduction of government services through public spending cuts and budget deficit cuts, the privatization of non-market land and natural resources, increased free trade, and business deregulation. Governments of developing countries are forced to open up their economies to foreign direct investment (FDI) and reduce their role in the economy by privatizing the health sector as well as state-owned industries and non-market land and natural resources [7, 12–16].
Simple trade models suggest that developing countries should specialize in industries in which they have a comparative advantage to manage their balance of payments, which is a record of international transactions that balance net earnings on exports minus payments for imports [7]. In general, the structure of balance of payments is a reflection of the degree to which the Suriname economy relies on the outside world for goods and services it imports as well as its capacity to pay for these using its export proceeds. Following this model, countries like Suriname that are rich in natural resources specialize in the extraction of those natural resources so they qualify for subsequent installments of what amounts to collateralized loans that are divided into segments marked by milestone payments. The booming sector becomes the extraction of natural resources. In Suriname, mining is the largest income generating segment of the economy [7, 14].
To manage their balance of payments, Suriname responded by increasing its capacity in the exploration and exploitation of gold and bauxite [7]. It is generally recognized that most of the funds obtained by Suriname are in the form of loans from the IADB, of which there have been 198 since 1982 [7, 17]. This implies that the development process is inevitably accompanied by indebtedness. Indigenous peoples, who are dispossessed of the territories they occupy and rely upon for their traditional livelihoods, become dislocated, scattered, impoverished and alienated minorities by the SAPs that comply with neoliberal economic development programs [16]. They also become frustrated by the persistent disjuncture between their need to address the causes of health and well-being that are socially and economically formed and the failure of their government to respond. What generally escapes the world's attention is the funders' influence on the development strategy and policies of the recipient, in this case Suriname. Given that the IADB is in a stronger position than Suriname, the Government of Suriname (GOS) is forced into an extremely weak, vulnerable and dependent position [7]. It is a process that is currently benefitting some by increasing GDP per capita at the expense of vulnerable minority Tribal and Indigenous People who reside on the areas being privatized.
While converting land and resources held by indigenous people into private ownership has created an active market for land, increased investment and productivity, and reduced poverty when measured in terms of per capita GDP, it has also caused indigenous people to become disassociated, impoverished and alienated minorities whose health status has declined to unacceptable lows when measured in terms of mercury poisoning and the burgeoning rate of suicide [18–25].
The first country cooperation framework (CCF) for Suriname outlined a strategy for economic reform, and the UNDP on behalf of the international donor community outlined the supporting policies needed to create an enabling environment that would enhance Suriname's productive capacity. The GOS asked the UNDP, in collaboration with UNIDO, to take a lead role in combating the Hg pollution which results from gold mining [13, 14]. A 2015 World Wildlife Fund review on mercury contamination from small-scale gold mining in Suriname showed that in the last 20 years, while SAPs have led to significant economic improvements, they have failed to limit Hg pollution which has become a significant environmental and public health issue across the nation and in the region [26]. The authors of the report recommended that measures be taken to address the effects of Hg exposure among Suriname's most vulnerable people living in the interior region.
Concerns about the ecological effects of mining, and of exposure to Hg from mining, increased in 2001 when Mohan carried out a pilot study on the exposure to Hg in mothers and newborns who were seen in the obstetrics and gynecology ward of a hospital in Suriname's capital [27]. Between 2005 and 2012, Peplow and Augustine showed mercury exposure was also occurring in Suriname's interior region at levels causing adverse neurological effects among the indigenous Wayana people [28–30] who are highly dependent on fish in their diet [31]. Acknowledging the extreme nature of the Wayana health crisis compelled public health practitioners to address the large-scale social forces at work [32].
While the attention paid to technological and behavioral solutions at the individual level yields important health outcomes, attention should also be paid to structural causes of disease, disability and premature death [33]. In this paper we describe the use of community-led public health research to highlight the link between international development bank policy and practice and community health. The focus of our attention is away from discrete national systems to a study of how these systems are influenced and shaped by internationally financed economic development loans and programs.
In this decade-long project, we tested the hypothesis that the causes of health and well-being among the indigenous people in Suriname's interior 'Amazonia' region lie outside the health sector and are socially and economically formed and that their health and well-being is linked to globalization and 'governed' on a global scale. The underlying assumption is that there is a complex web, or system of causation that provides a context for intervention. We assume that identifying the most effective leverage points within this web, in which small changes in the social environment can lead to large changes in health outcomes, is essential to reduce complexity and develop effective, multilevel intervention plans.
The IADB's Suriname Land Management Program (SLMP) is a useful case example of how economic development programs that convert non-marketed land and mineral resources into marketable resources for the global economy can affect health outcomes. As of 2004, when this project began, between 10 and 15 million people worldwide, including approximately 3 million women and children, were utilizing Hg in artisanal and small-scale gold mining operations [26]. Our goal was to support the original "people-centered" strategies for economic-development that meets the "balance-of-payment" goals as described in the UNDP 1997–2002 Advisory Note on the Country Cooperation Framework of Suriname [14] and is reflected in the Inter-American Development Bank's 2006 Operational Policy on Indigenous Peoples and Strategy for Indigenous People [33]. We expect the lessons learned in Suriname can be applied to other areas experiencing similar issues.
Methods
This paper took a systems approach to intervention mapping to identify causal relationships and to select the most effective leverage points that address health related problems at the community level [34]. The systems approach was used to create a social-ecological model in which health conditions could be viewed as a function of the interaction of individuals with the environment in which they live as opposed to a linear model focusing on a single cause-effect pathway. Health, as it related to individual behavior, was viewed as a function of factors found in their environment, including family, social networks, organizations, communities, government and supranational organizations.
Bartholomew outlined six fundamental steps in the intervention mapping process [34]: 1) Identify problems and assess causes, 2) Identify changeable determinants, 3) Select theory-based methods to change determinants, 4) Create an intervention action plan, 5) Implement intervention action plan, and 6) Review, reflect and evaluate intervention program.
Even though the process is described as a series of steps, the process we followed was iterative, not completely linear and followed a progressive cycle of planning, action and reflection that was carried out continually over the 7-year period during which this project was performed. The intervention mapping process spanned ecological levels starting at the individual level and proceeded through the interpersonal, community, and societal levels. This approach relied on horizontal relationships between various partners through a democratic participatory process. It was built on a broad base of relationships in which various types of knowledge were brought together to illuminate issues identified by indigenous communities impacted by specific economic development projects.
Results
Open-ended interviews were performed with participants listed in Table
2
. The interviewer captured relevant stakeholders and relationships and added them to the Policy-Oriented Causal Diagram (Fig.
1
). Open-ended interviews ensured that participant's responses were not constrained by the interviewer and made it possible to explore the participant's own knowledge structure.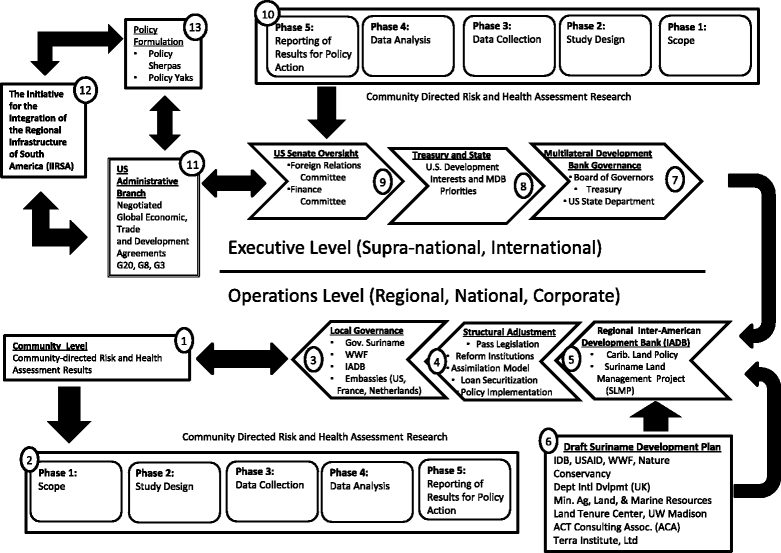 One disadvantage of the method was that open-ended interviews were very time intensive. Also, the results were highly qualitative and not amenable to statistical analysis. Furthermore, the reliance on the interviewer to identify and extract important concepts and relationships increased the potential for bias and misjudgements. The diagram derived from the interviews, shown in in Fig. 1, was numerically keyed into 13 categories and described below:
Discussion
Getty writes that prior to colonization, indigenous peoples living traditional lifestyles were healthy, with organized systems of government, knowledge and kinship [48]. Although human welfare is conceptually complex and difficult to measure, academic literature tracing the health of societies undergoing assimilation is achieved by disciplines such as anthropology, archeology, economics, and history that offer broad perspectives and consider large-scale and long-term forces that shape community health. Steckel, for example, studied health and nutrition of people in pre-Columbian America who transitioned from hunter-gatherers to settled agriculture and from settled agriculture to urban lifestyles [49]. Using indicators of health from skeletal remains of people and a procedure for condensing diverse skeletal data into a single index that measured health and well-being, this cross-disciplinary study showed that at each stage of human development, a divergence occurred in which some people gained while others lost in the transitions. Data also reflected a trend in which the powerful had better nutrition, expended less energy on work, and were able to compel work among the less powerful. By the nineteenth century, urban living had a well-established reputation for poor health even as these areas continued to grow by in-migration. By 1839, Chadwick [50] and Morrissey [51] reported on the link between social stratification and mortality.
To provide a deeper analysis of fieldwork results, this paper also considered works in global health, law and sociology to inform the problem-solving process from a broad-based systems perspective as opposed to using simpler models that focus only on linear cause-and-effect pathways. The systems approach yields a social-ecological model in which health conditions can be viewed as a function of the interaction of individuals with the environment in which they live. A properly designed policy-oriented causal diagram would identify opportunities for making small changes in the environment that had the potential to lead to large improvements in health outcomes.
Environment as it pertains to the social determinants of health [52] can include family, social networks, political structures, and historical frameworks. In 1938, Burdick published a seminal work asserting that although the Roman Empire as a political organization passed away centuries ago, Roman jurisprudence, through its influence, still remains a world power [53]. In its modernized form, Roman Civil Law has been adapted and serves as the basis for the establishment of settlements, towns and cities and now is the basis of law for three-fourths of the economically developed world. Economic globalization, as we know it today, would not have been possible without the precedence of Roman Civil Law because it was designed to assimilate the indigenous occupants of seized territories after it was recognized that conquest and domination would not be sustainable.
In most instances, tribal peoples' contact with the state and their assimilation into a broader economic community has been to their disadvantage [4, 5]. Just as new economic, political, social, and cultural relationships are being redefined by globalization in the 20th and 21st centuries, new patterns of morbidity and mortality are emerging. According to Durkheim [54], modern economic life produces a social pathology called anomie, which is the breakdown of social bonds between an individual and the community. Anomie is the thread that underlies psychosocial conditions like substance abuse and suicide. Durkheim speaks of the "rising flood of voluntary deaths" as "accompanying the march of civilization". Durkheim also considered suicide rates to be a measure of the health the social body.
In Ecuador, Waters notes that conservative models of economic development demand decentralization and a weakening of the State to address the overlap of indigenous health and globalization and argues that participatory, community-based alternatives are more democratic [4]. Kunitz wrote that on the positive side, globalization and global information networks are making it possible for indigenous peoples to participate in global networks with other indigenous peoples, environmental and public health advocates, and non-governmental organizations to mobilize international support against adverse economic policies [6].
Although Suriname, a former Dutch colony, became politically independent in 1975, and its post-independence government was a socialist "friend of the underprivileged", its development strategy was capitalist and similar to the strategy pursued during the colonial period [7]. Since Surinamese independence, there have been a succession of development plans that included the Multiannual Development Programme for 1975–1990 [7], the 1986 Agricultural and Trade Policy and Reform Act [15], UNDP's Country Cooperation Framework of Suriname for 1997–2002 [14], the First Country Cooperation Framework for 1999–2001 [13], the Second Country Cooperation Framework for 2002–2006 [12], the 2002 Suriname Land Management Project [43], and the 2007 Project for the Sustainable Development of the Interior [44].
Evidence presented here suggests that neocolonial trade strategies in Suriname are having persistent and negative effects on communities of indigenous people when balance of payments requirements motivate the Suriname government to adopt adjustment policies that dispossess indigenous people of their land and livelihoods. It is an example of how the health and well-being of indigenous people is linked to inequalities generated by a neoliberal approach to economic development. This makes the issue of the relationship between economics, governance and health much broader than the Pan American Health Organization and World Health Organization 2012–2016 Country Cooperation Strategy for Suriname would suggest [55].
The PAHO/WHO strategy assesses health and health governance in the context of economic development and attempts to reconcile health with competing political and economic goals [55].
In Suriname, when health confronts World Bank, IADB and International Monetary Fund programs based on free trade and neoliberal economic globalization principles, the need for better health is evaluated in terms of the maximum amount of benefit for a given expenditure for various policy options and not in terms of the assumption that there is a basic right to health as expressed in the Alma Ata Declaration [56]. The Alma Ata Declaration states that, "health, which is a state of complete physical, mental and social wellbeing, and not merely the absence of disease or infirmity, is a fundamental human right [56]. In the field, however, health and well-being is a function of power rather than need, the innate characteristics of a particular health issue, and the compelling logic of an appropriate social action plan [56]".
Economists who defend SAPs and IADB development projects say that providing special assistance would be a disincentive for indigenous communities who need to bootstrap their way into the economy. In contrast, indigenous communities undergoing assimilation are requesting land tenure so they can join the market economy and transform their land and resource assets into sustainable livelihoods. Land tenure is consistent with the market approach to economic development. It provides a means to compensate for the loss of resources according to the principles of eminent domain. If followed it would call for a restitution assistance program that would provide indigenous communities with resources they could use to bootstrap themselves into the Western economy.
Conclusion
Globalization is leading the world to a culture united by consumerism and trade. At the same time the neoliberal model of globalization is resulting in a transfer of power to international banking institutions, a weakening of the nation state and the breakdown of local cultures. This has made local health institutions increasingly less able to respond to the public health demands inherent in the global economic development process. Suriname serves as a case example in which economic development programs result in an increase in GDP per capita at the expense of vulnerable minority tribal and indigenous people. These are people who reside in the areas where land and natural resources are being privatized and traded on the global market. Interventions within the arena of indigenous health necessarily have political implications. Attempts by the global health sector to reduce inequalities and social gradients to improve health and well-being of indigenous people have to contend with the political, economic and cultural realities of consumer capitalism and globalization.
Economic development projects like the SLMP in Suriname lacked distinct mechanisms that are ethnically, socially, or culturally appropriate despite the fact that they implicitly include indigenous peoples among the beneficiaries. In practice, they failed to benefit and ultimately harmed the indigenous segment of the target population. A simple trade-off between benefits for a majority and the devastating effects for a minority is unacceptable. The sustainability of development can be ensured only if unacceptable harm to vulnerable minorities is avoided, the full range of potential impacts are assessed at an early stage, and action is taken in light of the outcome of the assessment.
The argument that the global economic community has a special moral obligation to indigenous people harmed by multilateral investments in global economic development projects has practical implications for many areas of social policy, including high-level health care policy. It justifies isolating expenditures on indigenous health initiatives from general funding limits. It also justifies special expenditures on indigenous health programs designed to address the unique needs of indigenous people in remote, sparsely populated areas. Providing special resources would contribute to overcoming large health inequalities.
Health challenges currently experienced by indigenous communities in Suriname can only be tackled by radical changes to the way in which global health and financial and economic governance are currently managed. It is clear that decades of public health intervention among indigenous communities in Suriname has neglected to include a social action plan as it relates to these already marginalized communities. We suggest here that the goal of the global public health sector should be to advance UNDPs expressed "people-centered" strategies for economic-development that simultaneously meet the demands of conservative neoliberal economic development models as well as democratic participatory, community-based development models that also meet the minimum standards for health and human rights. We expect the lessons learned in Suriname can be replicated in other areas experiencing similar issues.
We conclude with three recommendations for improving Suriname's compliance with its domestic and international commitments and obligations related to the effects of economic development projects and Indigenous Peoples' right to health. These recommendations are replicable and should facilitate priority setting in other countries with great disparities in health experienced by Indigenous Peoples or other disadvantaged population groups.
Recommendation #1
Establish improved social services, and translate gains in the macro-economic sphere into concrete benefits for the entire population with a special emphasis on the most vulnerable groups, we recommend that Suriname engage and work with its foreign partners, including foreign Development Banks, with international NGOs, powerful concession holders and aligned foreign governments to recast the Structural Adjustment Programs to provide land tenure to indigenous communities so communities undergoing assimilation and acculturation can join the market economy and transform their land assets into sustainable livelihoods. This recommendation is in accordance with existing international financial institution policies and strategies and the UNDPs people-centered development strategy that includes improved governance and poverty alleviation and sustainable livelihood generation with a specific focus on the interior,
In Suriname, the inability to reconcile health with competing priorities and political and economic goals is evidence that while health has been liberalized, commodified and marketized, the marketplace is not an inevitable agent of progress because it preferentially responds to competing economic interests, the demands of wealth and the operation of power rather than need, or the innate characteristics of a particular health issue or the compelling logic of a public health interventnion plan.
Recommendation #2
Advocates for indigenous health in Suriname should demand that the World Health Organization upgrade the public health emergency status in Suriname from 'Ungraded' (An event that requires no international response) to Grade 3 (A multiple country event including French Guiana and Brazil with substantial public health consequences that requires a substantial international response);
Recommendation #3
The World Health Organization should fully implement its Health in all Policies (HiAP) framework for Country Action at the international level with a special emphasis on high-level development policies applied to Suriname that guide development bank practices (e.g., Inter-American Development Bank, World Bank). The Government of Suriname should demand that international development policies and programs internalize the external social and health costs of development affecting Suriname's most vulnerable groups.
Abbreviations
CCF:

Country Cooperation Framework
EIA:

Environmental Impact Assessment
FDI:

Foreign Direct Investment
FTA:

Free-Trade Agreement
G20:

Group of 20 Nations
GDP:

Gross Domestic Product
GOS:

Government of Suriname
Hg:

Mercury
HIA:

Health Impact Assessment
HiAP:

WHO's Health in All Policies (HiAP) Framework for Country Action
IADB:

Inter-American Development Bank
ICIM:

Independent Consultation and Investigation Mechanism
IIRSA:

Regional Integration of Infrastructure in South America
MDB:

Multi-Lateral Development Bank
ODRA:

U.S. Department of the Treasury, Office of Development Results and Accountability
OIM:

Outside Initiative Model
PAHO:

Pan-American Health Organization
SAP:

Structural Adjustment Program
SEP:

Social Entrepreneurship Program
SIHF:

Suriname Indigenous Health Fund
SLMP:

Suriname Land Management Project
WHO:

World Health Organization
Declarations
Acknowledgements
Financial support for this project was provided by direct and indirect sources of funding for the authors and the associated institutions and departments. Funds for this project which spanned 11 years from 2005 to 2015 included private donations to the Suriname Indigenous Health Fund, as well as grants from the Puget Sound Partners for Global Health (Award Number 26145, Seattle, Washington, USA) and the Wellcome Trust (Award Number 089659/Z/09/Z and 089659/Z/09/Z/A, London, England).
Funding
This paper is based on work supported in part by the Rathmann Foundation; Puget Sound Partners for Global Health (26145); Wellcome Trust (089659/Z/09/A, 089659/Z/09/Z); and the Alliance for Global Justice. The funding bodies listed here had no role in the project design or data collection, analysis, or interpretation or in the preparation of the manuscript.
Availability of data and materials
No new data were created during this study. More detailed information about the information contained in this study can be requested by contacting the authors. Due to ethical concerns, the names of individuals who served as the source of information used as the basis of the narrative in this study cannot be shared without their permission.
Authors' contributions
The authors of this paper made substantial contributions to the conception, design, and acquisition of information, its analysis and its interpretation. Both authors participated sufficiently in the work to take public responsibility for the paper's content. Both authors made substantial contributions to the conception and design of the study, and the analysis and interpretation of the results. Both authors participated in drafting the article and revising the article for important intellectual content. Both authors will give final approval of the version to be submitted and any revised version.
Competing interests
The authors declare that they have no competing interests. This includes interests related to direct or indirect sources of funding for the individual author(s) or for the associated department(s) or organization(s), personal relationships, or direct academic interests. The funding bodies had no role in the design of the study and collection, analysis, and interpretation of data and in writing the manuscript.
Consent for publication
We, the authors of this publication, give our permission for this material to appear in the print, online, and licensed versions of the journal Globalization and Health and for the journal Globalization and Health to grant permission to third parties to reproduce this material.
Ethics approval and consent to participate
The primary intent of the work discussed in this paper was aimed at a specific public health problem, specifically to support the indigenous people in Suriname to self-diagnose public and environmental health problems due to exposure to the Suriname Land Management Project (SLMP) and to Hg contamination. This paper addresses the secondary benefits of the community-led efforts at the interface between health, well-being and economic development. These public health intervention projects were reviewed by the University of Washington Institutional Review Board (IRB), Human Subjects Division (HSD). No reference number was assigned because the community-led project was conducted as a public health service and was deemed "non-research". Consequently, the work was not considered to be within the purview of institutional review. As such, these non-research investigations have yielded insights of generalizable value that merit dissemination, but the research versus non-research determination, which is based on the primary intent, remains unchanged.
Open AccessThis article is distributed under the terms of the Creative Commons Attribution 4.0 International License (http://creativecommons.org/licenses/by/4.0/), which permits unrestricted use, distribution, and reproduction in any medium, provided you give appropriate credit to the original author(s) and the source, provide a link to the Creative Commons license, and indicate if changes were made. The Creative Commons Public Domain Dedication waiver (http://creativecommons.org/publicdomain/zero/1.0/) applies to the data made available in this article, unless otherwise stated.
Authors' Affiliations
(1)
Department of Health Services, University of Washington, White Swan, USA
(2)
Suriname Indigenous Health Fund, White Swan, USA
(3)
Sociology Department, Heritage University, Toppenish, USA