Migration to middle-income countries and tuberculosis—global policies for global economies
Globalization and Health
2017
13:15
Received: 27 May 2016
Accepted: 3 February 2017
Published: 15 March 2017
Background
International migration to middle-income countries is increasing and its health consequences, in particular increasing transmission rates of tuberculosis (TB), deserve consideration. Migration and TB are a matter of concern in high-income countries and targeted screening of migrants for active and latent TB infection is a main strategy to manage risk and minimize transmission. In this paper, we discuss some aspects of TB control and migration in the context of middle-income countries, together with the prospect of responding with equitable and comprehensive policies.
Main body
TB rates in middle-income countries remain disproportionally high among the poorest and most vulnerable groups in large cities where most migrant populations are concentrated. Policies that tackle migrant TB in high-income countries may be inadequate for middle-income countries because of their different socio-economic and cultural scenarios. Strategies to control TB in these settings must take into account the characteristics of middle-income countries and the complexity of TB as a disease of poverty. Intersectoral policies of social protection such as cash-transfer programs help reducing poverty and improving health in vulnerable populations. We address the development of new approaches to improve well-established strategies including contact tracing and active and latent TB screening as an 'add on' to the existing health care guidelines of conditional cash transfer programs. In addition, we discuss how it might improve health and welfare among both poor migrants and locally-born populations. Authorities from middle-income countries should recognise that migrants are a vulnerable social group and promote cooperation efforts between sending and receiving countries for mitigation of poverty and prevention of disease in this group.
Conclusions
Middle-income countries have long sent migrants overseas. However, the influx of large migrant populations into their societies is relatively new and a growing phenomenon and it is time to set comprehensive goals to improve health among these communities. Conditional cash transfer policies with TB screening and strengthening of DOTS are some strategies that deserve attention. Reduction of social and health inequality among migrants should be incorporated into concerted actions to meet TB control targets.
Keywords
TuberculosisMigrationHealth equityLow- and middle-income countries
Background
Tuberculosis (TB) rates have declined significantly in the 20th century worldwide, but HIV and multidrug-resistant tuberculosis (MDR-TB) have had drastic effects in some of the poorest countries [1, 2]. TB burden is still much higher in the poorest economies and highly concentrated among vulnerable1 populations and specific groups such as homeless people, people living with HIV (PLHIV), prisoners and migrants [1, 3]. It has been a century of reawakening concerns about TB control and rebuilding strategies for the next decades.
TB and TB/HIV coinfection partially reflects the income and development level of a country, with medium incidence rates at least 20 times higher in low-income countries (LIC) than in high-income countries (HIC) (Fig.
1
) [
1
,
4
]. Incidence of TB and associated mortality are now low in most HIC, with TB risk being disproportionally high among migrants from high burden countries—up to 80% of cases reported in some receiving countries [
5
]. Migrants are a risk group for TB from the perspective of the receiving country as TB incidence rates among them usually reflect TB incidence in the country of origin [
6
].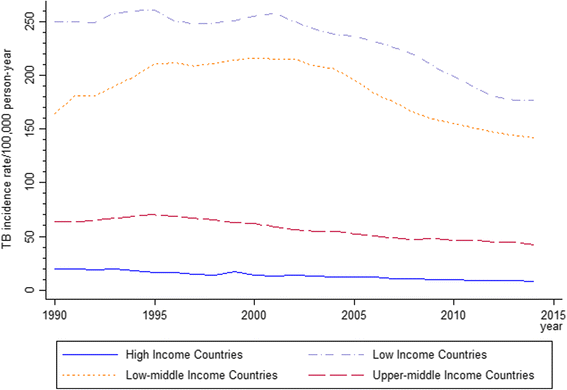 In HIC, migrants from high TB burden countries typically maintain higher active TB prevalences compared to the local population and, TB prevalence can reach at 3.3/1000 among migrants [7]. It may reflect a higher proportion of latent TB infection (LTBI) and increased risk of disease reactivation potentially increasing the risk of transmission to local communities. Migrants are often a hard-to-reach group, and thus poses a major challenge for TB control in high-income countries.
Over the last 15 years, the economic development of Upper-middle income countries (UMIC), especially the BRICS (Brazil, Russia2, India, China and South Africa) [1], has led to an increase in health spending and strengthening of primary care services [8]. Many regions have either achieved or made gains in achieving the TB-related Millennium Development Goals [1], but in contrast to the developed world, TB rates in some countries have remained high due to sustained poverty and poor living conditions [9]. Today, a great difference in TB rates remains between UMIC and Low-middle Income countries (LMIC) (Fig. 1).
Most South American countries have robust TB control programs, but inner-city populations often live in areas of deprivation with high unemployment rates and high rates of TB-related morbidity and mortality [1]. This is common even in countries with sound economic development such as Argentina, Brazil and Chile that attract a high number of regional migrants from other middle-income countries [10–12]. Migration and TB control strategies in middle-income countries, especially in UMIC, need further investigation taking into consideration this context.
Migration, vulnerability and TB
As part of economic globalization, since the 1980s there has been an intensification of migration. Migrants living in developing regions accounted for 42% of total migration stock in 2015 and South-South
3
migration now comprises 36% of total migration, a proportion that is higher than that of South–north migration [
13
]. Figure
2
shows total number of migrants by country according to UN [
13
]. Refugees from conflict areas and natural disasters are highly visible in the media, but half of the migration stock (106 million) are international labour migrants who may live in an irregular situation in the receiving country [
14
]. Violence, labour exploitation and sexual harassment are frequently reported as occurring during the migration journey and in the country of destination [
2
,
14
]. Stressful conditions and social vulnerability can contribute to the development of non-infectious and infectious diseases in migrants, including TB infection or LTBI reactivation [
15
,
16
].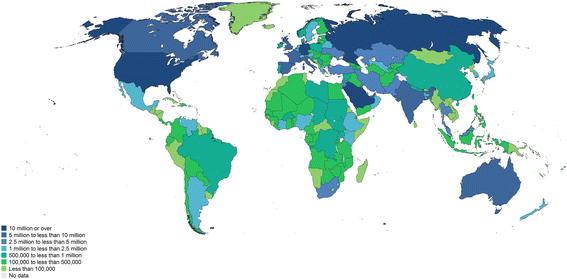 Host societies are increasingly concerned with social and economic impacts of migration including potential effects on morbidity and mortality and the burden on health care services (especially when accurate migration data are not available) [14]. The recent international financial crisis and austerity policies in the developed world have accentuated social inequities and affected migrants disproportionately [15].
Migration in middle-income countries is generally directed to major cities [17, 18]. Migrants are more likely to settle in low-income inner-city neighbourhoods with the greatest TB burden and some migrant groups often face more poverty, vulnerability and social exclusion than native communities living in the same areas [19]. In large cities in middle-income countries with large inequalities and high proportions of HIV, homeless individuals and drug users [1, 5], migrants comprise a new risk group for TB burden that needs to be specifically targeted.
Tuberculosis control among migrants
Conclusions
Middle-income countries and especially UMIC have been facing the same phenomena as seen in high-income countries in past decades: labour migration to large urban cities. Because of marked inequalities, big cities from middle-income countries must prepare to provide health care to incoming migrants, building on the reverse experience of being primarily a source of migration to more developed regions. In this context, intersectoral TB control strategies are needed to address social and health inequalities taking into account both migrants and locally born vulnerable groups in these countries. Conditional cash transfer policies may benefit poor migrants, especially during the first years after migration, and improve access to health care. Strengthening of DOTS and TB screening must also include migrants, especially irregular migrants that might not be supported by CCT programs. Finally, since migration flows largely take place within or between neighbouring regions [45], innovative control measures integrated with intersectoral and international policies are crucial for TB control and must be prioritized in regional agreements. Sending and receiving nations should channel their efforts to further integrating their health policies.
Footnotes
1
Although difficult to define, vulnerable groups include communities that are more vulnerable to conflicts, health conditions or economic shocks: people living in extreme poverty or socially excluded individuals, migrants or specific populations such as children, women and people with disabilities.
2
Russia is part of the BRICS group though it has been classified as high-income since 2013 and as upper-middle again in 2016.
3
Among a variety of definitions, "South" generally denotes low- to middle-income countries while "North" refers to high-income countries.
Abbreviations
BRICS:

Brazil, Russia, India, China, South Africa
CXR:

Chest X-rays
DOT:

Directly observed treatment, short-course
HIC:

High income countries
HIV:

Human immunodeficiency virus
IGRA:

Interferon gamma release assay
LIC:

Low income countries
LMIC:

Low-middle income countries
LTBI:

Latent tuberculosis infection
MDR-TB:

Multidrug resistance tuberculosis
PLHIV:

People living with HIV
TB:

Tuberculosis
UMIC:

Upper-middle income countries
Declarations
Acknowledgements
None.
Funding
JMP and EAW received funding from the National Council for Scientific and Technological Development (CNPq) of Brazil. MGMG was supported by FCT and CAPES (Science without Borders).
Availability of data and materials
Not applicable.
Authors' contributions
JMP and EAW conceptualized and wrote the manuscript. LCR and GG made substantial contributions to the discussion, writing and editing of this manuscript. All authors have read and approved the final version of this manuscript.
Authors' information
JMP is an infectious disease epidemiologist and is currently working on tuberculosis transmission in Sao Paulo, Brazil. She is affiliated to School of Public Health/Faculdade de Saúde Pública of Universidade de São Paulo and to the London School of Hygiene and Tropical Medicine. LCR is an infectious disease epidemiologist, Professor at the London School of Hygiene and Tropical Medicine. MGMG is a Professor at the Liverpool School of Tropical Medicine and is also affiliated to CIBIO-InBIO in Portugal and to the Instituto de Matemática e Estatistica of Universidade de São Paulo, Brazil. EAW is an infectious disease epidemiologist, Professor at School of Public Health/Faculdade de Saúde Pública of Universidade de São Paulo. He is an associate editor of several Brazilian journals and a member of the Committee of Brazilian National Surveillance System Evaluation.
Competing interests
The authors declare that they have no competing interests.
Consent for publication
Not applicable.
Ethics approval and consent to participate
Not applicable.
Open AccessThis article is distributed under the terms of the Creative Commons Attribution 4.0 International License (http://creativecommons.org/licenses/by/4.0/), which permits unrestricted use, distribution, and reproduction in any medium, provided you give appropriate credit to the original author(s) and the source, provide a link to the Creative Commons license, and indicate if changes were made. The Creative Commons Public Domain Dedication waiver (http://creativecommons.org/publicdomain/zero/1.0/) applies to the data made available in this article, unless otherwise stated.
Authors' Affiliations
(1)
Faculdade de Saúde Pública, Universidade de São Paulo, São Paulo, Brazil
(2)
Department of Infectious Disease Epidemiology, Faculty of Epidemiology and Public Health, London School of Hygiene and Tropical Medicine, London, UK
(3)
Liverpool School of Tropical Medicine, Liverpool, UK
(4)
CIBIO-InBIO, Centro de Investigacao em Biodiversidade e Recursos Geneticos, Universidade do Porto, Vairão, Portugal
(5)
Instituto de Matematica e Estatistica, Universidade de São Paulo, São Paulo, Brazil