Attitudes and behaviours of maternal health care providers in interactions with clients: a systematic review
Globalization and Health
2015
11:36
Received: 2 September 2014
Accepted: 30 June 2015
Published: 15 August 2015
Abstract
Background
High maternal mortality and morbidity persist, in large part due to inadequate access to timely and quality health care. Attitudes and behaviours of maternal health care providers (MHCPs) influence health care seeking and quality of care.
Methods
Five electronic databases were searched for studies from January 1990 to December 2014. Included studies report on types or impacts of MHCP attitudes and behaviours towards their clients, or the factors influencing these attitudes and behaviours. Attitudes and behaviours mentioned in relation to HIV infection, and studies of health providers outside the formal health system, such as traditional birth attendants, were excluded.
Findings
Of 967 titles and 412 abstracts screened, 125 full-text papers were reviewed and 81 included. Around two-thirds used qualitative methods and over half studied public-sector facilities. Most studies were in Africa (n = 55), followed by Asia and the Pacific (n = 17). Fifty-eight studies covered only negative attitudes or behaviours, with a minority describing positive provider behaviours, such as being caring, respectful, sympathetic and helpful. Negative attitudes and behaviours commonly entailed verbal abuse (n = 45), rudeness such as ignoring or ridiculing patients (n = 35), or neglect (n = 32). Studies also documented physical abuse towards women, absenteeism or unavailability of providers, corruption, lack of regard for privacy, poor communication, unwillingness to accommodate traditional practices, and authoritarian or frightening attitudes. These behaviours were influenced by provider workload, patients' attitudes and behaviours, provider beliefs and prejudices, and feelings of superiority among MHCPs. Overall, negative attitudes and behaviours undermined health care seeking and affected patient well-being.
Conclusions
The review documented a broad range of negative MHCP attitudes and behaviours affecting patient well-being, satisfaction with care and care seeking. Reported negative patient interactions far outweigh positive ones. The nature of the factors which influence health worker attitudes and behaviours suggests that strengthening health systems, and workforce development, including in communication and counselling skills, are important. Greater attention is required to the attitudes and behaviours of MHCPs within efforts to improve maternal health, for the sake of both women and health care providers.
Keywords
Maternal healthLow- and middle-income countriesHealth workforceAbuse and disrespectSystematic review
Introduction
Despite major advances in reducing maternal mortality worldwide, the pace of progress is too slow to achieve the maternal health target of Millennium Development Goal (MDG) 5 [1–3]. An estimated 273,500 women die during, or after pregnancy and childbirth each year [1], whilst another ten million women suffer from pregnancy-related disease, disability or depression annually [4]. Most maternal mortality and morbidity occurs in low- and middle-income countries (LMICs) and is preventable [5].
Several factors hinder access to the health care services needed to avert maternal and newborn deaths and morbidity. These include cultural norms, gender discrimination and lack of a right's based approach which emphasizes human dignity and attention to the needs of women in planning and delivering health services, inadequate knowledge of signs and symptoms of illness and services available, cost of services, lack of transport options and poor quality of care. The latter, quality of care, has recently received greater attention as a key reason for maternal mortality and morbidity remaining high in several countries despite substantial increases in coverage of maternal health services [6].
Quality of care is a multidimensional concept with no universally accepted definition [7]. Graham and colleagues argue that quality of care encompasses "clinical effectiveness, safety, and a good experience for the patient" [8, 9]. In the case of family planning and reproductive health services, Bruce defines quality of care as comprising six elements: choice of methods, information given to clients, technical competence, follow-up and continuity mechanisms, interpersonal relations, and an appropriate constellation of services [10]. Hulton et al., in relation to facility-based maternal health services, suggest quality of care is defined by effectiveness, timeliness, as well as the upholding of basic reproductive rights [7, 11]. In addition, quality is defined as comprising two components: the quality of the provision of care in relation to the service and the system, and the quality of care as experienced by users [11]. When care is deemed to be poor by the user, seeking of services is likely to be negatively impacted [12, 13].
The attitudes and behaviours of maternal health care providers (MHCPs) are an important element of quality as they influence both positively and negatively how women, and their partners and families perceive and experience maternal health care. Lack of respectful care from providers, such as doctors and midwives, may lead to dissatisfaction with the health system, diminishing the likelihood of seeking antenatal (ANC), delivery and postnatal services [14]. In addition, MHCP attitudes and behaviours might directly affect the well-being of patients and clients, and the relationship between patients and providers [14]. Moreover, negative attitudes and behaviours could undermine the quality of care and the effectiveness of maternal and infant health promotion efforts, in addition to compromising women's essential right to dignified and respectful maternal health care [15, 16]. Taken together, the attitudes and behaviours of MHCPs are an important determinant of maternal and infant health outcomes [17, 18], and women being able to enjoy their basic rights of freedom from violence and discrimination and achievement of the highest attainable standard of physical and mental health [19, 20]. A recent statement by the World Health Organization (WHO) and the Human Reproduction Programme calls for greater attention, research and advocacy around the maltreatment of women at the time of childbirth in facilities [15].
Though several individual studies have explored provider attitudes and behaviours in LMICs, few have reviewed and synthesized these findings. Reviews to date have either focused on particular types of attitudes and behaviours such as disrespect and verbal and physical abuse [21–24] or specific time-periods, such as labour [21, 24]. A more comprehensive review of MHCP attitudes and behaviours in LMIC settings, which spans the continuum of the maternity period, will add important information. Such evidence, together with a summary of the influences on, and impacts of MHCP attitudes and behaviours, could inform policies and strategies to improve the utilization and quality of maternal health care. Applying systematic methods to review peer-reviewed literature, we aimed to identify the attitudes and behaviours of formal-sector MHCPs in LMICs towards their patients; influences on these attitudes and behaviours; and their impacts.
Framework for analysis
As we could not locate an existing conceptual framework for exploring attitudes and behaviours of MHCPs, frameworks from related areas were used to develop a framework for this study. Firstly, a framework related to health worker performance and motivation was used, which identified several influences on performance using the following grouping: (1) health worker factors such as knowledge, skills, and motivation, (2) patient or client factors, namely demand for care and severity of illness, (3) work factors related to availability, clarity, and changes in guidelines and job aides, (4) health facility environment which encompasses factors such as workload, supervision, availability of equipment and supplies, and relations with co-workers, (5) administrative environment relating to the management of health workers, and (6) political and economic environment for human resource development [25]. Similarly, Franco and colleagues developed a framework related to health worker motivation which notes that motivation is influenced by factors operating at the individual, organizational, and health system levels, as well as by the broader cultural and community context [26]. Drawing on these two frameworks, and those developed by Bruce [10] and Hulton et al. [11] in relation to quality of care, we developed a conceptual framework to analyse and understand the connections between the findings from this review.
The framework shows the factors that influence MHCPs' attitudes and behaviours, the resultant types of attitudes and behaviours and their corresponding effects (Fig.
1
). Determinants at the: (1) individual-level such as provider beliefs and characteristics, provider-patient relationship, as well as patient's attributes, attitudes and behaviours; (2) organisational-level such as work load and working environment including supportive supervision, relations with co-workers and availability of medicines and commodities; and (3) societal-level namely cultural beliefs, shape positive and negative attitudes and behaviours of health workers. These attitudes and behaviours, in turn, impact on the patient's emotional well-being, satisfaction with care, and access to services – all of which are also interrelated. By having an effect on these elements, which determine quality of care, attitudes and behaviours ultimately influence maternal health outcomes.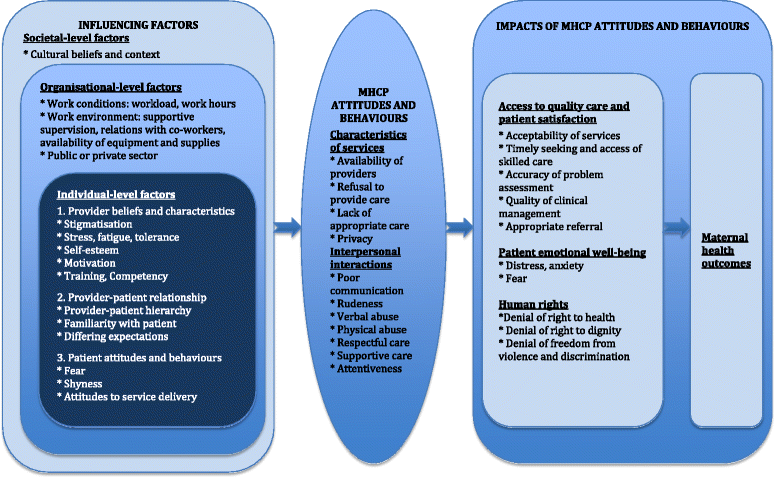 Methods
Search strategy
Five electronic databases were searched: the Cochrane Library, CINAHL Complete, Medline (PubMed), Popline and PsychInfo. Search strings were developed based on identifying key words and medical subject headings related to the population (MHCPs in LMICs), the "intervention" (attitudes and behaviours), and potential outcomes (satisfaction, acceptability, access, utilization, and health-seeking behaviours). The full search strategy is included as Additional file 1. Reference lists of included studies and reviews located on the topic were examined to identify additional literature. Retrieved records were imported into the reference management software EndNote X4 and assessed against inclusion and exclusion criteria in three stages - screening of titles, abstracts, and finally full texts.
Inclusion and exclusion criteria
This study was limited to literature published in English from January 1990 to 1 December 2014. As the aim was to explore the breadth of the research undertaken on MHCP attitudes and behaviours in LMICs, all types of study design were included. MHCPs were defined as trained providers (such as medical doctors, nurses, midwives and paramedics) delivering antenatal, abortion, childbirth or postnatal services (including family planning) up to one year after childbirth. Studies on experiences of HIV-positive women within maternal health services were not included here as HIV itself incurs marked stigma and discrimination, with corresponding implications for service utilization and health outcomes [27–33]. Given that provider attitudes and behaviours towards HIV likely differ considerably from other conditions, this was considered a separate review and beyond the scope of this study. The LMICs included were drawn from the World Bank's classification of countries' income status in July 2012.
Studies were included if they reported on the types of attitudes and behaviours, the factors influencing these, and/or the impacts resulting from certain attitudes and behaviours. Reports which simply stated that the attitude or behaviour was 'positive' or 'negative' without providing additional details on the type of attitude or behaviour, or the influences or impacts of the positive or negative attitudes and behaviours were excluded. We also excluded studies related to health care for children; case studies of the experience of one patient or one MHCP only; and studies describing factors which influence quality of care without specifying the impact of MHCP behaviours and attitudes.
Analysis
A thematic analysis approach was used to synthesize the evidence located. Text relevant to attitudes and behaviours, and their influences and impacts, was extracted from full-text documents and those that were similar or conceptually-related were grouped together. Thus, for example, insulting and humiliating speech, shouting and scolding were classified as 'verbal abuse'; whilst ignoring patients or being uncaring, dismissive or hostile were classified as 'rudeness'. Selected quotations from participants as reported in the studies were copied verbatim to further illustrate dominant themes or notable exceptions to these.
For each paper included in the review, information was extracted into a standardized data tool on: (1) study characteristics (first author and year of publication, study design and setting); (2) study population; (3) type of facility (public or private) and health worker cadre; (4) type of attitude or behaviour, grouped as positive and negative; (5) factors influencing attitudes and behaviours; and (6) impact of attitudes and behaviours.
Results
Of the 967 titles and 412 abstracts screened, 125 full text papers were obtained and reviewed, and 81 studies included in the review (Fig.
2
). Almost all of the 44 papers excluded on full text did not provide information on MHCP attitudes and behaviours (n = 41), two described experiences with one MHCP only, and one paper reported on the attitudes of providers who were not skilled.
Discussion
Although MHCP attitudes and behaviours have a considerable influence on women's and their families' perceptions of quality of care and thereby decisions to seek care, and ability to access appropriate and adequate maternal health care, surprisingly few studies have comprehensively sought to understand these issues in LMICs. The lack of interventional research on this topic is especially remarkable: no studies specifically aiming to alter MHCP attitudes or behaviours were identified.
Evidence synthesized from public and private health facilities in 42 LMICs across four regions (Africa, Asia, Latin America, Middle East) show frequent reporting of negative attitudes and behaviours, most commonly verbal abuse, rude behaviours and neglect. These were ascribed to a range of trained professionals, including doctors, nurses, midwives and paramedics, but reported predominantly in public rather than privately owned health facilities. The types of attitudes and behaviours did not vary significantly based on the stage of maternity care, with the exception of impatience and a lack of willingness to accommodate traditional practices which were reported only during delivery. These findings mirror those of a study included in this review which measured the frequency of reported abusive MHCP behaviours at the time of childbirth: 14 % of women sampled (n = 593) were ignored, 13 % verbally abused, and 12 % received negative and threatening comments [81]. Similarly, a comprehensive USAID-supported review of disrespect and abuse during childbirth in facilities, involving a review of published and grey literature as well as primary qualitative data collection, also noted instances of physical abuse, non-consented and non-confidential care, non-dignified care, discrimination based on specific patient attributes, abandonment of care, and detention of patients in facilities in LMICs [21]. Grey literature reports based on primary data collection from South Africa, Nigeria, Kenya and Peru, framed within the context of human rights, describe instances of neglect and refusal to provide care, verbal and physical abuse, as well as discrimination of women by MHCPs [110–114].
Positive attitudes and behaviours on the other hand, described as being caring, respectful, friendly, informative and sympathetic, were much less frequently reported. Evidence of such interactions was noted in Africa, Asia, Latin America and the Middle East, and primarily during ANC and at the time of childbirth, with no specific patterns observed in terms of type of facility or cadre of health worker.
As in the case of health worker performance and motivation [25, 26], this review found that MHCP attitudes and behaviours are complex phenomena, shaped by several macro- and micro-level interrelated factors: the broader cultural context, work conditions and the workplace environment, provider beliefs and characteristics, clients' attitudes and behaviours, and the overall provider-client relationship (Fig. 1). Providers were more likely to be caring and understanding when they had a pre-existing relationship with the patient, or were familiar with the patient's culture or community. Negative attitudes and behaviours often related to poor working conditions, which include heavy workloads, long working hours, and shortages of equipment and medicines (Fig. 1). Other key factors influencing negative attitudes were the provider attributes, beliefs and prejudices, as well as their perceptions of negative patient attitudes and behaviours, such as delayed care seeking or apparent lack of compliance with medical advice. Bowser and Hill reached similar conclusions in the USAID review, reporting that factors such as provider prejudice, demoralization related to poor working conditions, and provider status contributed to disrespect and abuse of women in facilities [21].
The most commonly reported impact of MHCP attitudes and behaviours was on care seeking. Women were more likely to attend ANC and deliver in a health facility when MHCPs had positive attitudes and behaviours. Conversely, when providers were rude and known to abuse patients, women were fearful and distressed, less satisfied with care, and likely to opt for home delivery with a traditional birth attendant. The latter are frequently described as helpful, caring and sympathetic [51, 74, 87, 88, 102]. Results of the few studies that provided quantitative data related to MHCP attitudes and behaviours support the qualitative evidence. Reluctance to attend ANC, delivery and postnatal care increases the risk of poor maternal and newborn health outcomes [115]. Also, fraught communication and relations between patients and providers will likely undermine the transfer of important maternal and newborn health promotion messages.
Of note, MHCPs' neglect or refusal of care led to delays in appropriate and adequate care, which in turn increased risk of morbidity and mortality. A study in The Democratic Republic of Congo showed that women who died from obstetric complications were less likely to have received timely and appropriate care than women who survived [100]. It is also noteworthy that studies from developed and developing countries show that feeling a lack of control and support during labour can result in postpartum depression and post-traumatic stress disorder [116–118].
The effects of negative attitudes and behaviours on the promotion and protection of fundamental human rights, client satisfaction with care, and health outcomes highlight the need for program planning and service design. Such initiatives should take into account the complex factors which influence MHCP attitudes and behaviours. Many of these, such as cultural norms and provider and patient beliefs, will require context specific strategies. Others, such as inadequately equipped facilities or low provider salaries, will need to be addressed through overall health systems strengthening – particularly in relation to public health facilities. These efforts might include a review of human resource planning, provider roles and responsibilities, and financial incentives to determine how to minimize work-related stress for MHCPs.
Importantly, a rights-based approach must be consistently adopted when designing and delivering maternal healthcare. WHO defines such an approach as one where human rights norms and principles are included in the design, implementation, monitoring and evaluation of programmes and policy [119]. These norms and principles include human dignity, addressing the needs and rights of vulnerable groups, accessibility to health systems, and freedom from discrimination based on sex and gender roles [119]. This review however found several instances of pregnant women being disrespected and ignored, discriminated as a result of social norms and values, and denied access to health services. To uphold human rights in service design and implementation will again require addressing the factors which lead MHCPs to deny pregnant women and mothers their basic, fundamental rights.
Studies in this review highlighted that patients seek positive reinforcements, in the form of sympathy, care and understanding from health care providers, which help to promote care seeking [37–39, 43, 47–49, 54, 55]. Approaches, however, to promote positive MHCP attitudes and behaviours are presently under-developed, with evidence on the approaches tested to date available mainly from grey literature [21]. A few studies have noted improvements in provider self-esteem and provider-patient interactions following training for MHCPs on interpersonal and communication skills and patient engagement in childbirth [21, 120–123]. A WHO manual entitled 'Counselling for maternal and newborn health care: a handbook for building skills', is an example of a tool that might enhance provider communication skills [124]. Studies in Iran and Nepal also found that implementation of a strategy to improve process and structural elements of quality of care resulted in improved attitudes and behaviours [21, 125]. Other effective interventions might include: promoting supportive supervision of MHCPs by facility managers; professional development planning for MHCPs; ensuring accountability to professional standards and ethics at all levels of the health system; improving patients' understanding of medical practices and their rights; and raising providers' knowledge of local cultural practices in relation to pregnancy and childbirth [18]. Also potentially useful are international and national policies and advocacy around unacceptable provider behaviours, with a focus on human-rights based maternal health care [20, 126, 127].
Whilst the evidence on approaches related to maternity care may be limited, lessons learned in other areas, such as HIV/AIDS, may help to inform strategies to improve MHCP attitudes and behaviours. Studies in Nigeria, India, and Vietnam for example, found that training on changing knowledge and attitudes about HIV/AIDS [128, 129], and participatory processes whereby hospital staff develop action plans or policies to address stigma and discrimination [129, 130] helped to improve attitudes towards HIV positive patients. Similarly, in Uganda, an education program on HIV for nurses and nurse-midwives had a positive effect on professional practice, communication, and self-confidence [131].
Limitations
This review is limited by inclusion of only English publications. The full-texts of eleven abstracts were also not available. Importantly, the study did not assess the quality of evidence, an important step in collating evidence with variable degrees of robustness. Assessment of quality of evidence was not done due to constrains in study resources and the complexity of assessing and comparing the quality of research across the different study designs included in the review. In addition, the higher numbers of reports of negative attitudes and behaviours than positive ones might be partly due to research generally focusing on system weaknesses, rather than on strengths. Also, the lack of quantitative studies limits our ability to quantify the impact of the attitudes and behaviours identified, particularly on maternal health outcomes. We were unable to examine differences in findings based on level of facility and other contextual factors affecting health worker attitudes and behaviours, such as those related to workload or the workplace environment, as the majority of studies did not provide these details. Many studies included here simply referred to health facilities or health workers in general, without specifying the type – thereby limiting the scope of the review's findings. Lastly, the majority of relevant studies in this review were set in sub-Saharan Africa. While many MHCPs' attitudes and behaviours may be common to other settings, differences in cultural and societal contexts may mean that effectiveness of potential interventions may vary across settings.
Moving forward
Some gaps in evidence can be highlighted. More investigation is needed to better understand MHCP attitudes and behaviours in varied settings, factors promoting positive attitudes and behaviours, and the effectiveness of interventions to address negative patient experiences. More generally, maternal health system interventional research needs to include enquiry about potential impacts on MHCP attitudes and behaviours. Notable also is the predominance of studies in sub-Saharan Africa (around two thirds of all studies), highlighting the need for studies in other regions – particularly given that strategies to improve attitudes and behaviours will need to take into account contextual factors.
Findings of this review have important implications for the achievement of both MDG 4 and 5 and beyond, and suggest a need for markedly increased attention to this issue. Negative attitudes and behaviours constitute key deterrents to care seeking, as important as cost of services or geographical barriers. Disrespectful and abusive treatment of women also undermines ongoing efforts to increase skilled birth attendance [17]. The human rights violations resulting from such behaviour, namely the right to care, to health information, and freedom from physical abuse and neglect, equally demand a policy response [126, 127]. Positive attitudes and behaviours among MHCPs will not only contribute to improved maternal health outcomes, but may also help to reduce neonatal mortality and morbidity as a result of increased seeking of skilled care by pregnant women and mothers. Addressing provider attitudes and behaviours is therefore critical to ensuring continued progress towards the MDGs and saving the lives of women and children in low- and middle-income countries.
Footnotes
1
A 15-item questionnaire which aims to identify patient experiences and problems with specific health care processes that affect the quality of care in inpatient settings (see Jenkinsen, Coulter & Bruster, 2002).
Declarations
Acknowledgements
This work has been funded by AusAID through Compass: Women's and Children's Health Knowledge Hub. Compass is a partnership between the Burnet Institute, Menzies School of Health Research and the Centre for International Child Health, University of Melbourne. The views represented here are not necessarily those of AusAID or the Australian Government. Thanks also to Wendy Holmes who conducted an initial review on the topic and provided a critical review of the manuscript. The authors gratefully acknowledge the contribution to this work of the Victorian Operational Infrastructure Support Program received by the Burnet Institute.
Open Access This article is distributed under the terms of the Creative Commons Attribution 4.0 International License (http://creativecommons.org/licenses/by/4.0/), which permits unrestricted use, distribution, and reproduction in any medium, provided you give appropriate credit to the original author(s) and the source, provide a link to the Creative Commons license, and indicate if changes were made. The Creative Commons Public Domain Dedication waiver (http://creativecommons.org/publicdomain/zero/1.0/) applies to the data made available in this article, unless otherwise stated.
Authors' Affiliations
(1)
Centre for International Health, Burnet Institute, Melbourne, Australia
(2)
Jean Hailes Research Unit, School of Public Health & Preventive Medicine, Monash University, Melbourne, Australia
(3)
International Centre for Reproductive Health, Department of Obstetrics and Gynaecology, Ghent University, Ghent, Belgium
(4)
Wits Reproductive Health and HIV Institute, Faculty of Health Sciences, University of Witwatersrand, Johannesburg, South Africa
(5)
Department of Epidemiology and Preventive Medicine, School of Public Health and Preventive Medicine, Monash University, Melbourne, Australia